The Free Photo Model
Using our technology, event organisers are finally able to utilise participant photography as an integral marketing tool for their events – an easy way to grow sales, increase exposure and add hundreds of dollars of value to your event package. By providing free branded photos to your participants immediately after an event, we can significantly enhance the participant experience, increase social media engagement with your brand and offer a much greater ROI for your sponsors.
How will free branded photos benefit your events?
Most event photographers charge participants between $15 and $30 for their digital photographs. Not only does this leave your participants feeling frustrated with your event, it means only a very small number of your participants download and share their event photos on social media.
By providing your participants with free branded photos, we can increase the number of people downloading and sharing their photos by 1200%, taking the number of brand impressions from 0 to hundreds of thousands. In addition to the obvious marketing gains, free photos will keep your participants happy so that they're more likely to tell their friends, family and colleagues about your pioneering events.
In the below graphic, we look at the differences between the conventional participant photography model and our free photo model, using an event with 5,000 participants as an example. All download and social media statistics have been sourced from surveys and research referenced below.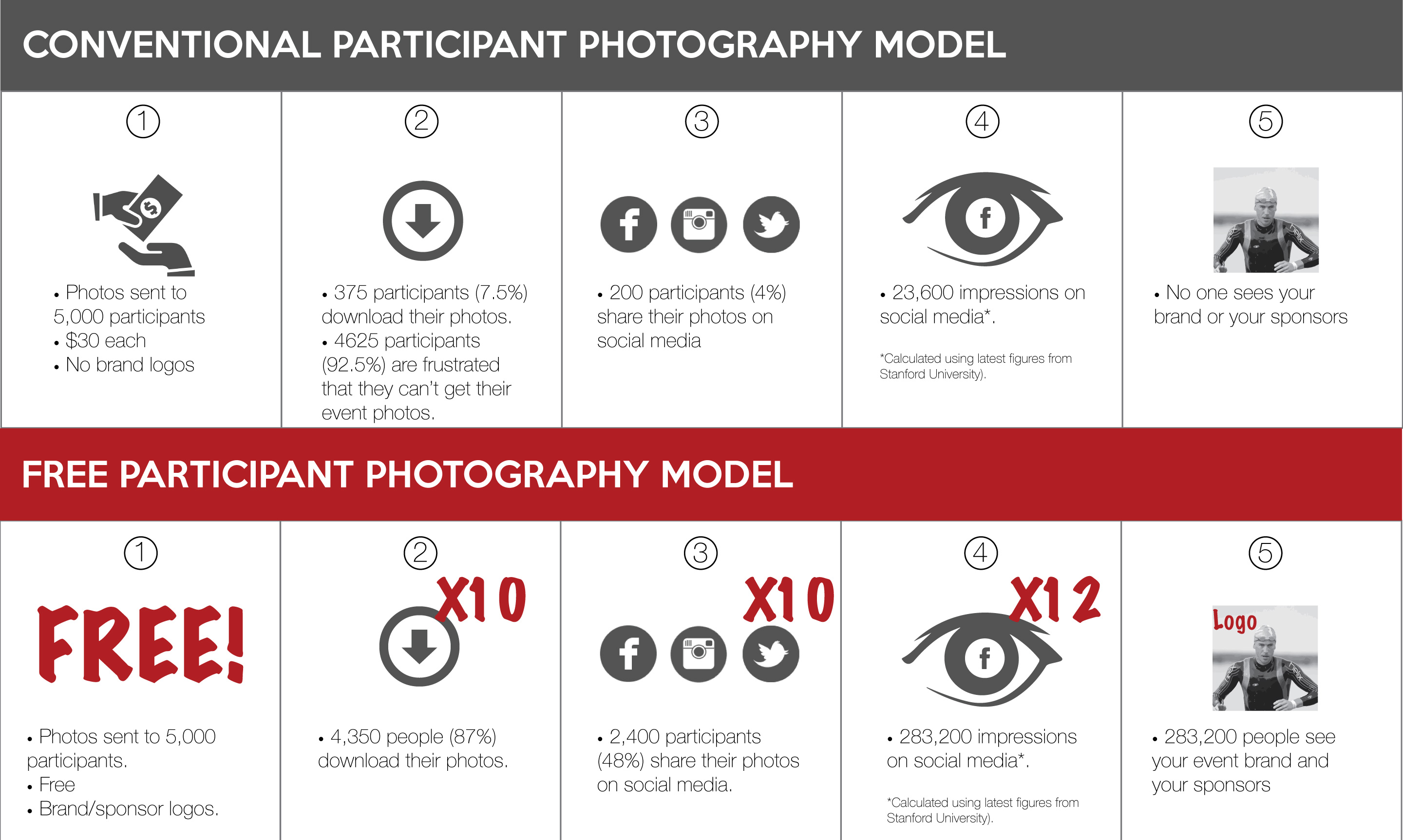 How it works?
We provide all of the technology, live camera upload, automatic bib number tagging, social media plugins, high volume data storage, professional photographers and a customer service team to make sure your participants receive all of their photos. All we need from you is a high-resolution logo and we'll take care of everything else.
As soon as the photos have been uploaded directly from camera to our servers, they are automatically tagged and overlaid with your logo before being sent out to your participants. We provide an average of 10 free photos to each participant, allowing you to offer $300 of value to each athlete. We keep track of the number of people who download their photos so that you can see how many people are interacting with your brand. When the participants receive their free photos, we provide them with your social media details and hashtags so that they can publicly thank you for the free event photos and in turn, bring more genuine followers to your social media accounts. To maximise social media reach we give your participants the ability to either share directly to their Facebook or Twitter wall, or download the raw branded file so that they can upload it to multiple social media platforms:

How much does it cost?
Event organisers are charged a small fee to use our technology and photography services. This includes professional photography, live camera upload, automated bib number recognition, file storage, high volume email and customer service.
There are various ways to cover this cost and generate additional revenue. We recommend adding a small fee to your entry fee and advertising free participant photography as part of the event package. By doing this you can add hundreds of dollars of value to your event package. Alternatively, you can get a sponsor to pay this fee and we'll overlay their logo on all participant photos. As part of our 2018 user survey we found that 89% of participants would rather increase the entry fee by $3 if it meant that they would receive all of their event photos. Our survey also concluded that 55% of people would be more likely to enter an event if they knew participant photography was going to be provided free of charge.
Event partners
We've worked with some of the biggest mass participation event organisers in Australia. Here are just a few of the events that use our free photo model.

References
Quantifying the Invisible Audience in Social Networks - Stanford University
6 New Facts about Facebook - Pew Research Center